Samsung Galaxy Gear smartwatch may come in 5 colors, including "white gold"
13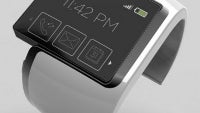 We're just about two weeks away from the expected announcement of the Samsung Galaxy Gear smartwatch, and that means the rumors are flying pretty fast right now. We've had a
couple
leaks
that have dealt with the specs of the device, as well as conflicting info on the screen size, but now we're getting an idea of the choice of colors that will be available.
SamMobile is reporting that in the first week of sale, the Galaxy Gear will be available in standard white and black, but also in grey and orange. In the second week of sale, Samsung will introduce a special "white gold" color, which may or may not be a regional exclusive, so there's no guarantee that we'll actually see that one in the U.S.. It is likely that Samsung will offer even more colors later on, but nothing is confirmed.
The reports are saying that Samsung will announce the
Gear at IFA
on September 4th, and it will be released for sale in late September/early October. Still no word on pricing.