Samsung Galaxy A5 and Galaxy A3 go on sale in Taiwan, set Samsung on a fine 64-bit, metal unibody path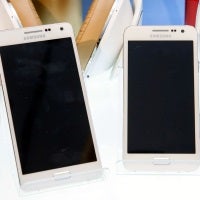 Surprise, surprise! It looks like Samsung just launched its new Samsung
Galaxy A5
and Galaxy A3 smartphones in Taiwan. The only thing missing, international availability aside, is the
Galaxy A7
- the flagship of the series - to keep them company. While we're waiting for the star of the show to appear, we get the chance to have a good look at Samsung's new low & mid-range offerings and their refreshed metallic designs. Both the Galaxy A3 and Galaxy A5 have unibody metal cases, which means they are prettier and sturdier, but the battery is non-removable. They are sold in three colors - black, white, and gold.
Both devices are powered by Qualcomm's Snapdragon 410 64-bit quad-core processor, which is becoming increasingly en vogue. However, the Galaxy A5 has a 5-inch 720p display, and the Galaxy A3 makes do with a 4.5-inch 540p screen. Differences don't end here, however. The Galaxy A5 has 2GB of RAM, 16GB of storage memory, a 13MP main camera, and a 2300mAh battery. The Galaxy A3 is downsized to 1GB of RAM, 8GB of storage memory, an 8-megapixel main camera, and a 1900mAh battery. Both smartphones have 5MP wide-lens front cams, and run Android 5.0 Lollipop.
In Taiwan, the Galaxy A5 is priced at $380, while the Galaxy A3 costs less at $287. Samsung's plans for international markets aren't clear for the moment.