Samsung Cetus is the Korean firm's debut Windows Phone 7 device for North America
This article contains unofficial information.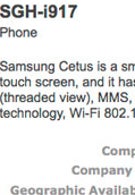 Time marches on and before you know it, we will be close to the holiday shopping season which cellphone fans now equate with the launch of Windows Phone 7. Microsoft's new mobile OS will get launched on a number of devices in time for Windows Phone 7 equipped handsets to be handed out as gifts. In North America, the first Samsung device to be equipped with the new OS will apparently be the SGH-i917 which has received the name, the Samsung Cetus. The Cetus will feature a 4 inch AMOLED display with resolution of 800 x 480 and be equipped with a 5MP camera. There will also be a second VGA front-facing camera on board, for video calls. Of course, IE is the native browser and the phone will be Wi-Fi enabled. Other info like carrier, pricing and launch date will have to wait for another time. Right now, it is just good to know that Samsung will be putting some high-end specs onto its Windows Phone 7 handset.
source:
BluetoothS.I.G.