Samsung CEO issues a battle cry on employees, big software push to follow
32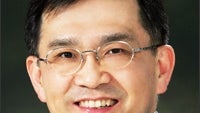 Hot on the heels of
30 million Galaxy S III handsets sold
, and
3 million Note IIs
, Samsung Electronics' CEO is issuing a battle cry to the troops that 2013 is expected to be very sluggish for the world's economy, so they must come up with something really innovative to keep the company's momentum going.
The handset division accounted for the lion's share of Samsung $7 billion plus profit last quarter, but the company makes many more other things, which could be a factor for growth as well.
A big part of this push towards innovation is to be in software, said Kwon Oh-hyun: "
Samsung wants to become a market creator in a real sense not just as a fast follower. There are two key pre-conditions; building up distinctive software platforms and eco-system.
" If we read this right, we can expect a big effort to go towards Samsung's Nature UX Android interface, among other things, and the company's media Hub apps that allow access to movies, music and books on its mobile devices.
He tried to make things abundantly clear for the troops going forward with a bit of corporate pep talk:
If you are satisfied with what you have achieved so far, then we will fall down suddenly. For a bright future, Samsung shouldn't stop its vigorous efforts to find the next cash generators...
The economy is expected to see another slow year of recovery in 2013. The consumer electronics industry is at a major crossroads. This is a new trend that Samsung hasn't experienced. No evolution means no future...
I want to transform Samsung as the right spot to house more proven and qualified human resources. Samsung should become the podium for employees to realize their dreams by exchanging fresh ideas and sharing them freely. I will lead the way.