SNK Playmore's games get a celebratory price-cut – all titles now $0.99
0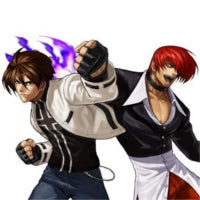 SNK Playmore chose to celebrate The King of Fighters' 20th anniversary by slashing the price tags of its Neo Geo titles across both the App Store and the Play Store.
The titles include 4 games from The King of Fighters series (3 for Android). If you are not familiar with them – they are, oh, only some of the most famous round-based fighters of the '90s. Further in SNK's catalogue, we have Metal Slug (4 games) – a side-scrolling shooter that is both very hard and extremely fun when played with a friend. Then we have Samurai Shodown II, which is another cult classic, round-based fighter. And lastly – Blazing Star – a side-scrolling plane shoot 'em up that will treat you to a lot of explosions and some good ol' terribly translated, broken-English quotes that are the source of some of today's Internet memes.
All games have been updated to support a few different modes, such as being able to pick a mission to start the game from, which is a good addition for mobile gamers. Also, they all support multiplayer over Bluetooth, so if any of these titles tickle your fancy, be sure to grab a friend and play them together – it's twice as fun, we promise.
The sale ends on August 26th, so if you are eyeing one or two of these titles, don't waste much time. Enjoy!
Download: ($0.99 each)
The King of Fighters (
iOS
)
The King of Fighters '97 (
iOS
|
Android
)
The King of Fighters '98 (
iOS
|
Android
)
The King of Fighters 2012 (
iOS
|
Android
)
Samurai Shodown 2 (
iOS
|
Android
)
Metal Slug (
iOS
|
Android
)
Metal Slug 2 (
iOS
|
Android
)
Metal Slug X (
iOS
|
Android
)
Metal Slug 3 (
iOS
|
Android
)
Blazing Star (
iOS
|
Android
)