SNK Playmore slashes the prices of all Metal Slug titles across Apple's and Google's app stores
3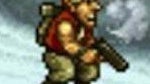 Any gamers out there who are, ahem, wiser, will most probably have at least one or two fond memories, associated with the Metal Slug series of games. The titles were a hit back in the days, when a kid that wasn't at school could almost certainly be found at the local arcade, and were resurrected in recent years, as part of SNK's portfolio of nostalgia-inducing oldies.
Metal Slug is an insanely hard side-scrolling shooter, which mixes over-the-top action and on-screen explosions with just the right amount of cartoony, cheesy humor, that keeps you entertained even when you are being brutally pummeled by a giant tank / chopper / hybrid machine.
Those of you, who weren't certain whether the game's "magic" has successfully translated on to the tiny touchscreen were probably holding back on paying $3 per title. Well, you'd be happy to know that Metal Slug 1, Metal Slug 2, Metal Slug 3, and Metal Slug X are now available for $0.99 each in both the Play Store and the App Store.
The titles support multiplayer over Bluetooth, so those of you who have a sibling / buddy to share the experience with should surely consider grabbing some copies, as even buying 2 per title will still cost you 2/3 of the game's regular price.
Take heed – we'd recommend playing the games with a controller, as the game is just pretty brutal for touch. Besides, a lot of Android users have reported the virtual joystick to not be functioning properly on their handsets, so be wary. Thankfully – Google now allows you to get a refund within a 2-hour window post-purchase, so you are free to try if everything is alright on your particular device.