Rovio announces an epic sequel: Angry Birds: Star Wars 2, will introduce collectible 'telepod' figures
4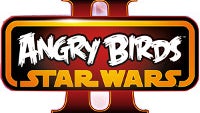 As promised
,
Rovio
has just announced a sequel to its massive hit title –
Angry Birds: Star Wars
on its blog.
Set to launch on September 19, the next iteration of probably-the-most-successful-mobile-game-ever will continue the Star Wars saga and feature over 30 "never-before-seen" characters from its universe. The cherry on top?
Rovio has pretty much confirmed that beloved Jar Jar Binks will rank among them:
"At this point we will
not
comment on rumors or speculation that Jar Jar Binks will be in the game. "
Speaking of characters, the Disney-wannabe has taken its merchandising effort to the next level – collectible 'telepod' figures will be available from
Hasbro
–
Rovio
says that placing the telepod on top of a smartphone's or a tablet's camera will prompt the app to scan it directly into the game. Pretty awesome stuff.
We may soon have a winner at our hands, for the Finnish-based company has taken a cue from its Bad Piggies spinoff –
Angry Birds: Star Wars 2
will also allow you to choose your side!
Without any further ado, treat yourself to a Chewie-smashing-Darth Vader type action in the video below:
source:
Rovio
Recommended Stories