Robot waits in line for the new iPhone as Sydney kicks off sales of the newest models
22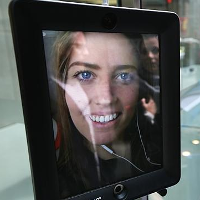 The
Apple iPhone 6s
and
Apple iPhone 6s Plus
have already been on sale in Sydney, Australia. The city is traditionally one of the first to have the iPhone on sale each year. While lines were long as usual around the Apple Store in the city, a fierce rain storm made the conditions even rougher for those waiting to purchase the new handsets.
The line was led by Lindsay Handmer who says that he is not an Apple fan. Still, he was possessed to wait in line for two days as a way to promote his business, and raise money for charity. Handmer will later auction off the two iPhones he buys today, with the proceeds going to charity. A woman named Lucy Kelly had her place on line held by a "telepresence robot" made up of an internet-connected iPad on top of a base station. With the robot holding on to her place in line at the Apple Store, Lucy was able to go to work on Thursday, and still pick up her new iPhone on Friday.
The iPhone 6s and iPhone 6s Plus are built this year using a stronger Series 7000 aluminum. The material, employed on the Apple Watch, is used in aerospace production and
should eliminate the bending that took place last year
. In addition, 3D Touch allows the screen to differentiate between a light, regular, and hard tap. This allows users to "peak" and "pop." Press lightly to get a peak at content, press harder to pop into the content. On the home screen, 3D Touch brings you short cuts, and also works inside apps to give you different options. Other changes include the new 12MP rear-facing camera and the 5MP FaceTime shooter, up from 8MP and 1.5MP respectively. There is a new A9 chipset inside the device, RAM has been doubled to 2GB, and
the new Rose Gold color has been extremely popular
.
Last year, Apple sold 10 million
Apple iPhone 6
and
Apple iPhone 6 Plus
units during the launch weekend. Based on pre-order demand, it looks like this is one record that will be broken this weekend.
source: CNET (
1)
, (
2
)