Some iPhone 6 Plus units seemingly suffer from accidental bending
99+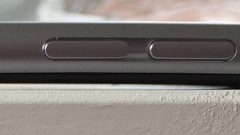 Several
iPhone 6 Plus
owners are complaining that their devices have become slightly bent, mere days after buying them. There's a thread over at the MacRumors forums which contains reports and photos that confirm this. Apparently, the iPhone 6 Plus can bend if you carry it in your front pocket for too long.
Since the iPhone 6 Plus measures 6.22 x 3.06 x 0.28 inches (158.1 x 77.8 x 7.1 mm) - thus being both larger, and thinner than any other previously released iPhone - the fact that it's more likely to bend under certain circumstances may not come as a surprise.
Apple has yet to take an official stand on the matter. However, if similar reports continue to show up, we assume it won't be long before the company releases a statement regarding the accidental bending. In any case, this doesn't look good (both literally, and figuratively) for Apple.
If you own an iPhone 6 Plus, let us know if you have any problems with it. If you don't own one, but maybe intend to, check out our
iPhone 6 Plus review here
.