Results: no flat screen variant of the Galaxy S8. What do you think about that?
59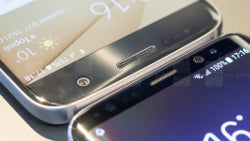 The
Samsung Galaxy S8
and
Galaxy S8+
are out and looking pretty. Super-slim bezels, glass-on-metal build, all the bells and whistles you'd expect from Samsung. This year around, the company put all of its eggs in the "edge" basket and produced both phones with curved screens — there is no "regular" flat screen shape for the Galaxy S8.
Unfortunately, this means that you can't go for a "cheaper" version of the new Sammy phones — prices usually start from $750 for the regular S8, while last year's Galaxy S7 had a $650 price-tag. But money aside, fact is that some people just want a flat display — be it for visual purposes, for easier screen protector fitting, for handling purposes, or any mix of those reasons. But, apparently, those people are a minority — at least that's what Samsung's decision with the S8 has us thinking.
So, we asked you — does the lack of a "flat" Galaxy S8 bother you? Here's how that poll went: