Report: Lack of competitive market in the U.S. leads to higher Apple iPhone sales
65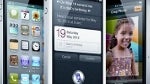 Benedict Evans of Enders Analysis has reached a conclusion about why
the Apple iPhone accounted for nearly half of all U.S. smartphone sales through carriers in the first quarter
, while overseas it is swamped 2 to 1 by Android. Before we get to that conclusion, let's examine some basic stats. In the first quarter of this year, 18 million smartphones were sold by U.S. carriers and less than half of those, 8.6 million to be exact, went to new smartphone buyers (which includes those upgrading for the first time to a smartphone from a feature phone) while the majority went to existing smartphone owners.
The numbers from Enders Analysis show that in the first quarter in the U.S., the Apple iPhone made up half of all smartphone sales, a figure that
dovetails with computations by other analysts
. The carrier whose iPhone sales made up the largest percentage of their overall smartphone sales was AT&T
where nearly 8 out of 10 smartphones purchased in Q1 were Apple's iconic device
. Despite the 50% share that the Apple iPhone snagged in the states from January through March, Android leads globally by a 2 to 1 margin. The reason for this discrepancy can be explained by numbers.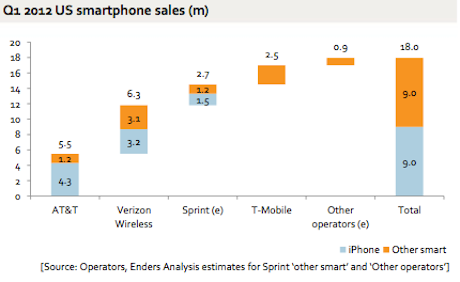 Half of all smartphones sold in the U.S. during Q1 were the Apple iPhone
Figuring that in the U.S., the typical Apple iPhone 4S costs $200 with a $80 monthly 2-year contract, the
Total Cost of Ownership for the Apple iPhone 4S in the states is $2,120
. The TCO for a free handset in the U.S. is $1,920. That means that the difference between owning an iPhone 4S and a cheaper phone is only $200 or 10% of the total cost. In the U.K., the TCO of the Apple iPhone 4S is $998 while the cheapest smartphone in the region has a TCO of $384. This means that in the U.K., buyers spend nearly $600 more over the life of a contract, to buy the Apple iPhone 4S. In the U.S., buyers are spending just $200 more over the life of the contract to buy an iPhone 4S. Those figures right there tell you why the Apple iPhone 4S is a hotter handset in the States than overseas.
Another point made by Evans is that with nearly half of all mobile phone users in the States
still clinging to their featurephone
, that is the market that smartphone manufacturers need to concentrate their marketing on in the States. The hope is that bu concentrating marketing to that group, eventually they will leave their featurephone aside for a new smartphone.
"Relative to most other developed markets, the US mobile market is structured around significantly higher usage, higher monthly bills and much less competition on handset subsidy."-Benedict Evans, Enders Analysis
source:
Guardian
Recommended Stories