Real Racing 2 for iOS update teases sweet graphics and split screen action via AirPlay
5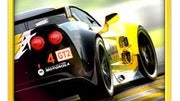 If you plan on becoming an iPhone 4S owner in the near future, you will probably want to check out the sweet graphics that A5 chip is capable of delivering. And what better way to do that than getting yourself a flashy 3D video game?
Real Racing 2 for iOS is about to get updated
pretty soon, and the game's next version is going to take advantage of that extra processing power the A5 chip is capable of delivering.
But the extra eye candy is not going to be all the update is going to bring. Thanks to the iPhone 4S' AirPlay compatibility you will be able to take the action to the big screen. But what is even cooler is that the next update to Real Racing 2 will allow split screen action for up to 4 devices. In Party Play mode, an iPhone 4S or an iPad 2 can act as a host while up to three additional devices will be able to join the fun wirelessly.
Feel free to check out the video below showing off the game's new features in action, and do not hesitate sharing your thoughts with us by dropping a comment.