Radio Shack offers the iPhone 4 for $149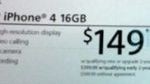 Radio Shack
has offered mobile phones for a while, but they have stiff competition from other third party retailers like Amazon, Wirefly, and Best Buy Mobile. In an effort to draw attention to their mobile phones, and ring up some holiday sales, Radio Shack is offering discounts on the
iPhone 4
, with the 16GB model for $149, and the 32GB for $249. The
iPhone 3GS
is also on sale for only $49.
If you have an earlier iPhone model, you're in luck. Radio Shack will honor their trade-in discounts on top of the sale price. An iPhone 3GS can be worth up to $125 in trade-in value. So if you trade a 3GS in good condition, you could get an iPhone 4 for as little as $25. An iPhone 3G trade-in can be worth up to $75, so you're still getting a great deal.
We aren't sure why there hasn't been more publicity for this deal. iPhone 4 holdouts will find it particularly tempting. You should know that the sale price and trade-ins are only valid in-store. Sale prices end on December 11th, so get moving!
source:
RadioShack
via
Redmond Pie