RIM 7130c and 7130g - new Blackberries for Cingular and T-Mobile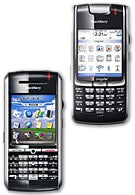 The FCC just approved new Blackberry devices from RIM – the 7130 quad-band GSM series that include 7130c for Cingular (with US #1 carrier branding on it), the 7130g (it resembles the 8700g's colorsand will be probably be available from T-Mobile) and the 7130v (for Vodafone). The phones are in candybar form-factor with internal antennas and have SureType keyboards, similar to those used in the 7100 series (which were also available from a variety of carriers). Bluetooth class 2 and high-speed EDGE are present, and the devices have 64MB flash memory and 16MB SRAM.
The FCC documents don't reveal more information, but at least we know the devices are 100% official, in contrast with the earlier blurry spy photos that we showed you.
7130c
7130c specifications:
Quad-band GSM phone; GPRS/EDGE
4.52 x 2.17 x 0.75 in; 4.2oz
64MB flash memory; 16MB SRAM
Bluetooth Class 2

| | |
| --- | --- |
| | 7130g |
7130g specifications:
Quad-band GSM phone; GPRS/EDGE
4.5 x 2.2 x 0.72 in; 4.2oz
64MB flash memory; 16MB SRAM
Bluetooth Class 2
Source:
FCC