Pricing info leaked for the HTC Thunderbolt and the Motorola XOOM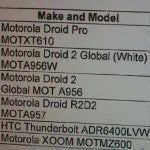 Leaked internal documents show what Verizon has in mind for the minimum advertised price (MAP) for the HTC Thunderbolt smartphone and the Motorola XOOM tablet. The HTC Thunderbolt with its 4.3 inch display and LTE connectivity, will have a MAP of $249.99, at least until July 21st. That price, of course, includes a signed two-year contract.
The Motorola XOOM's 10.1 inch tablet also features the Tegra 2 dual-core chipset and Android 3.0. The MAP for the tablet-also until July 21st- is $799.99. Unlike the price for the Thunderbolt, the XOOM's figure does not seem to be subsidized.
Just because these could be the minimum advertised prices does not mean that either device will launch at that price. As we get closer to the actual release of the pair, we should be able to get a better handle on what the actual launch price will be for both devices.
Besides the HTC Thunderbolt, what other models does Verizon have coming soon? You can check out Big Red's upcoming phones by clicking on this
link
.
source:
AndroidCentral