Pre-orders are available in the UK for the Sony Ericsson Xperia arc; April release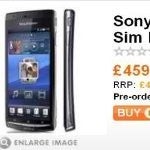 UK consumers are in for a special treat since they'll be the first ones to take part in
pre-orders for the upcoming Sony Ericsson Xperia arc
which impressed many people in attendance during CES 2011.
This highly anticipated
Android 2.3 Gingerbread
smartphone is already making waves, but even more when it's expected to come to market in the near future – as opposed to the lengthy wait times we've seen in the past for other Sony Ericsson Xperia models. You can pick up a pre-order for what appears to be the
Midnight Blue
Xperia arc model for the price of
£459.99 ($728)
– which is undoubtedly at the upper echelon of the price category for most people. However, it's actually for the
SIM-free version
of the handset which will enable you to use it on just about any mobile network around the world.
Additionally, we see that the pre-order post mentions that
April 1st
will be the day when the handset is released. With that date, it clearly places it within the time frame of early Q2 which is astonishing considering that the smartphone was just recently unveiled during CES 2011.
source:
Play.com
via
XPERIA Blog