Poll results: Which smartphone maker do you think had the best line-up in 2014?
81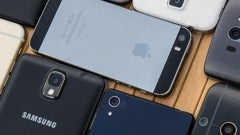 At the end of 2014, we
ran a poll
to see which smartphone manufacturer had, in our readers' opinion, the best line-up throughout the year.
Surprisingly or not, Samsung received the highest number of votes: 21.62% . Of course, it's hard not to appreciate devices like the
Galaxy Note 4
,
Galaxy Note Edge
,
Galaxy S5
, and others - not to mention the fact that Samsung released the largest number of smartphone models in 2014 (at least when we talk about relevant companies).
The second place is taken by Motorola, with 19.99% of votes. The
Moto X
,
Moto G
,
Droid Turbo
, and the
Nexus 6
(albeit a Google-branded handset) certainly helped Motorola's brand image last year.
What about the third place? Well, that's taken by Sony, with 19.02% of votes. The Japanese company launched some very appealing handsets in 2014, including the
Xperia Z1 Compact
,
Xperia Z2
,
Xperia Z3
, and
Xperia Z3 Compact
.
Apple, with its
iPhone 6
and
iPhone 6 Plus
, came out fourth (10.18%), while HTC (One M8,
Butterfly 2
,
Desire 820
, etc) received 8.41% of votes, thus occupying the fifth place. LG (7.16%), Microsoft / Nokia (5.74%) and Xiaomi (3.4%) also received a significant number of votes. You can check out the full poll results below: