Which smartphone maker do you think had the best line-up in 2014?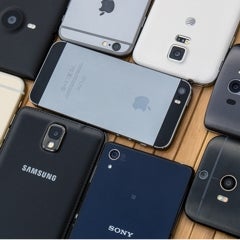 This is it: the very last day of 2014! When it comes to smartphones, there was a lot to see and enjoy throughout the year (not that we were expecting anything else). While there may have not been
too many surprises regarding flagships
, we're certain that most - if not all - consumers in need of a new smartphone this year did find something to their liking. As such, we're curious to know which handset maker's 2014 portfolio our readers liked best.
Sure enough, comparing a small line-up (like Apple's) to vast portfolios (like Samsung's, which includes tens of handsets, from the Galaxy S5 and Note 4, to low-end devices like the Galaxy Star 2) may seem a bit weird. But, in some ways, it's not. After all, it isn't the sheer number of smartphone models that counts the most, since we usually buy only one, or maybe two handsets per year (or once in a couple of years).
In case you need a reminder, here's what the most relevant smartphone makers released this year (in alphabetical order, not all devices included):
Apple

: iPhone 6 and iPhone 6 Plus

BlackBerry

: Z3, Passport, Classic

HTC

: One (M8), One (M8) for Windows, One mini 2, Butterfly 2, Desire 820, Desire EYE

Huawei

: Ascend P7, Ascend P7 mini, Ascend G6, Ascend Mate 2, Ascend Mate7, Honor 6

Lenovo

: Vibe Z, Vibe Z2, Vibe X2

LG

: G3, G3 stylus, G Pro 2, G2 mini

Microsoft / Nokia

: Lumia Icon / 930, Lumia 630 / 635, Lumia 530, Lumia 830, Lumia 730 / 735, Lumia 535

Motorola

: Moto E, new Moto X, new Moto G, Droid Turbo / Moto Maxx, Google Nexus 6

Samsung

: Galaxy S5, Galaxy S5 Active, Galaxy S5 Mini, Ativ SE, Galaxy Note 3 Neo, Galaxy K Zoom, Galaxy Mega 2, Galaxy Alpha, Galaxy Note 4, Galaxy Note Edge, Galaxy A5, Galaxy A3

Sony

: Xperia Z1 Compact, Xperia Z2, Xperia T2 Ultra, Xperia T3, Xperia C3, Xperia Z3, Z3 Compact, Xperia E3

Xiaomi

: Redmi Note, Redmi 1S, Mi 4

ZTE

: Grand Memo II LTE, Nubia X6, Nubia Z7 series
So, which one is it? Kindly cast your votes in the poll below!