Point of no return: Apple closes the door to revert to iOS 7
40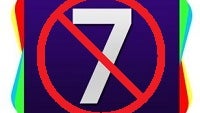 Owners of the iPhone 5s, or 5c, or recent iPad, who updated to iOS 8, and wanted to go back to iOS 7.1.2 have lost the opportunity.
A few days ago, we shared
steps that users could use
to pull their previous generation "i-device" back to the previous generation operating system. At the time though, we also advised that people that wanted to make the move should make that decision quickly.
It looks like that window of opportunity has now closed. Apple has stopped signing iOS 7.1.2, so following the steps we prescribed will no longer work. iTunes will now toss up an error message that devices are not eligible for the requested build of the older operating system.
That means that devices updated to iOS 8 are now in it for the duration. If your device was jailbroken before the update, it may be possible to retrieve the previous OS, but that is not guaranteed. If you updated and had been thinking about going back, may as well batten down the hatches, you are committed now.
source:
Macworld