Plantronics Voyager PRO UC Bluetooth headset is packing sensor technology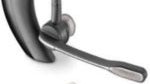 When all Bluetooth headsets act in the same manner in routing voice phone calls, manufacturers have to go through great lengths in deeply differentiating their models over the competition.
Plantronics is doing just that with their new Voyager PRO UC Bluetooth headset which they demoed during All Things Digital's "Dive into Mobile" conference. Sure it might share some commonalities with the original Voyager PRO model, but this new one stores some intriguing features such as smart whisper alerts, mobility presence, and smart call routing.
First and foremost, the smart whisper alerts will essentially notify you whenever a favorite contact sends you a text message or email – which is accomplished with a "you got a new message" whisper through the earpiece.
Secondly, mobility presence will make sure to modify your status on other services like Skype, Microsoft Lync, Cisco Communicator, and handset whenever you're actually on a phone call.
Lastly, the headset will automatically know when it's physically connected to your ear or not – meaning, it'll route the phone call to either the headset or handset. Even though it was only demoed, the new Voyager PRO UC is going to be officially announced some time in January and will be enabled for usage with mobile phones and computers.
via
IntoMobile