Piano made up of more than 100 Samsung Galaxy Tab S2 tablets debuts in London
19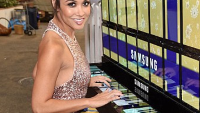 The Samsung Galaxy Tab S2 is a svelte tablet, regardless if you are talking about
the 8-inch model
, or
the one with a 9.7-inch screen
. Both slates are just 5.6mm thin. But when you put a large quantity of them together, you can end up with something rather substantial. For the holiday season, Samsung put together over 100 Galaxy Tab S2 tablets in order to make an upright piano. The result is something to behold. From the tablets displaying the piano keys, to the slates used to build out the rest of the instrument, the tablet piano is a thing of beauty.
Put on display at London's Spitalfields Market, pianist Myleene Klass was the first to play the tablet piano. Classically trained, Klass unwrapped a giant gift box inside the mall to unveil the instrument. There is no word so far from Samsung about whether the tablet piano is going to tour during the holiday season.
"Nothing makes me feel more festive than gathering around the piano with my two girls. The Samsung Tab S2 piano is a real first and nothing like I've ever played before. My youngest has just learned jingle bells and I know she'd love to try it on this piano! Christmas has to be my favorite time of year. Decorating the tree with my babies, helping them open their advent calendars, untangling the fairy lights plus deciding whether a star or a fairy should get poll position on the tree are all part of the fun. I find a tablet is a must for Christmas planning and organizing. I'll be using mine for everything from Christmas shopping to Skyping friends and family on the big day."-Myleene Klass, musician

"Samsung's Galaxy Tab S2 has been designed for those who want a tablet that is ultra slim and lightweight; ideal for helping you explore new content wherever you are, even if that means right in the middle of the bustling Spitalfields market. With stunning AMOLED screens the tablet piano not only sounds great but looks great too, with the screens showing off a fantastic gold Christmas wrapping paper animation. Like the piano, the Galaxy Tab S2 is also available in a beautiful gold design, making it the perfect special Christmas gift for family or loved one."-Conor Pierce, Vice President of IT & Mobile,Samsung Electronics UK & Ireland
Assuming that the piano is comprised of the 9.7-inch version of the device, the retail value of the tablets used to create the instrument would be approximately $40,000. That is a rough estimate, and if Samsung releases a more official number, we would be glad to update this story.
source:
Samsung
via
DailyMail