Pegatron already hard at work assembling the newest members of the extended iPhone and iPad family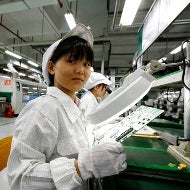 In a rumor that jibes with a September/October release timeframe, Apple's second largest ODM in Asia Pegatron, is said to have began production of the iPhone 5, or whatever the sixth generation iPhone gets titled.
Apple's assemblyman factory in Shanghai has been tasked with putting together the newest member of the extended iPhone family, and says revenues from that menial work will more than offset the loss of orders for notebook assembly that characterize this season.
Revenue for the second half is thus expected to beat the $11.4 billion Pegatron made in H1 with about 20%. The company is also
expected to be manufacturing the iPad Mini
, with a few million units reportedly ordered for shipment in the third quarter already.