Microsoft patent application reveals an improvement is coming to an important Surface Pro feature
1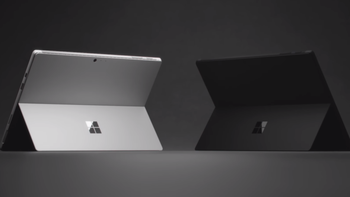 Microsoft's high-end Surface Pro tablets have a built-in kickstand that can prop up the screen to give you a better viewing angle to watch streaming content, or to use the device like a laptop with the optional Quick Type cover. Now, it appears that Microsoft is looking to improve the mechanism of the kickstand. A patent application
released by the USPTO
(via
Windows United
) reveals some changes to the hardware feature that could be implemented as soon as the upcoming Surface Pro 7.
The patent "Friction Hinge with Clutch-Based Resistance," covers a rather complex bit of mechanics that will allow the user to close the kickstand while employing less energy than it takes to open it. Additionally, the resistance level when closing the kickstand can be adjusted by the user. This should prevent the kickstand from accidentally opening, while still making it easy to close.
"The difference between the opening and closing resistance can be adjusted or otherwise determined by the width of the locking mechanism. For example, the width of the cuff can determine the difference in resistance levels. A larger collar covers a larger portion of the shaft and thus less shaft is designed for friction when closing, resulting in a lower closing resistance. In some cases, the diameter of the shaft may be lowered or otherwise reduced to allow such friction in receiving the cuff. The closing resistance can thus be adjusted to a desired level."-From Microsoft's patent application
The patent application was assigned number US20190064886 and was originally filed on August 29, 2017. Images from the application can be viewed in the slideshow below. We could see Microsoft take the wraps off of the Surface Pro 7 this coming October.