Pakistan-made Photo Editor Suite is the best selling app in the BlackBerry universe
5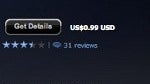 You may wonder which one is the best selling application in the BlackBerry App World, but it turns out that it's none other than an app called
Photo Editor Suite
created by the Pakistan company
Five Rivers.
Taking into account its success, it seems many BlackBerry users are very familiar with this app and its capabilities. It allows you to edit, crop, rotate, adjust brightness and contrast, recolour and resize photos. It is developed by Pakistani firm
Five Rivers
and, as we speak, it's the best selling app in the BlackBerry universe.
We can only cite
Mahe Zehra Husain
, the head of operations and product management at the firm:
"This is extremely good news for us and especially for the Pakistani IT industry. This is incredible.We feel we are on top of the world. The application has been in the top five paid applications for quite a while now and on Sunday made its way to the number one spot."
It's great that people from all over the world create apps that we all appreciate and love and we hope we'll see more of the same in the future.
source:
Yahoo