Oracle considering purchase of webOS as further ammunition against Android
36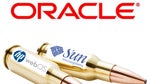 Four sources have confirmed to Reuters that HP is currently taking advice from Bank of America as it weighs the sale of its webOS division. That news won't be shocking to anyone who has followed the
webOS saga
, but this might: one of the companies speculated to be interested in buying webOS is said to be Oracle.
Oracle doesn't seem to have any strategic interest in creating their own mobile platform. Instead,
the move would most likely be used to provide Oracle with more leverage in its ongoing
legal battles
with Google over Android.
The sources said HP expected to sell off the division for much less than the $1.2 billion they paid for it in 2010. Given the exorbitant prices that patents have been fetching of late, it would seem that a bidding war could not be ruled out.
HP acquired several important smartphone patents when it purchased Palm, and it's likely that the IP could use asserted against a broad range of mobile devices. It's hard to say how many additional targets Oracle might have in mind, or even if they will ultimately end up purchasing webOS, but one thing seems clear: we will be seeing more lawsuits in the mobile ecosystem in the future.
source:
Reuters
via
intomobile
Recommended Stories