Patents laws, wars and trolls explained in a useful infographic
17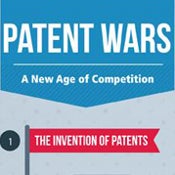 Oracle suing Google, Apple suing Samsung, Google suing Apple - doesn't your head start to swirl? That's just scratching the surface, though - this week alone we are seeing more lawsuits plague the industry with
HTC now attacking Apple with patterns it bought from Google
and Sprint filing against the AT&T and T-Mobile merger. Looking from a bird-eye's view, it surely looks like a
maze
.
That's why there's nothing more needed than a fresh new infographic explaining
patterns in simple terms
and puting the patent wars on (virtual) paper. And the one here explains what a patent is and when one should apply for it, but it also gives some easy to grasp illustrations and summarizes some of the latest legal battles in the mobile industry. It doesn't give every tiny detail but rather it focuses on the general picture.
Feel free to check it out on the right, but don't hesitate to also see why we think the
patent Cold War needs to end
and why some patterns differ from others.