Oppo reveals the R7 and R7 Plus - stylish midrangers
13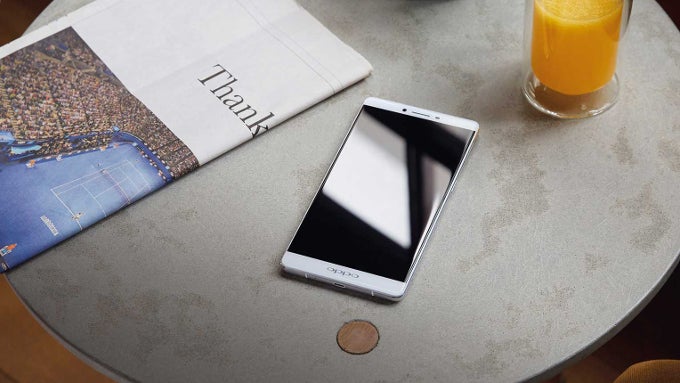 Oppo has finally unveiled the
R7
and R7 Plus – two
very classy
midrangers, which we've been hearing about for a while now. Initial leaks used to show us a smartphone that employs optical illusion with its curved glass, achieving a bezel-less appearance. Unfortunately, official ads and press renders that came out more recently showed that the R7 has a more "regular" face, whereas the R7 Plus makes an attempt at a bezel-less look, but doesn't quite pull it off.
Still, both phones have been made to look great, with metal unibody cases, contoured around the edges, and meeting with the "2.5D" glass at the front. Both handsets are powered by Snapdragon 615 SoCs, which Oppo has experience with now, having previously used them in the R5 and R1x (a.k.a. R1C). The R7 and R7 Plus both house 3 GB of RAM, 13 MP F2.2 main cameras and 8 MP F2.4 selfie snappers, and both have 1080 x 1920 pixels stretched across their screens. There is, of course, a difference in size – the R7 has a 5" display, whereas the R7 Plus sports a 6" one. The bigger sibling also sports a fingerprint scanner on its back, just below the main camera. And, of course, there is a difference in battery – while the R7 sports a 2,320 mAh juicer, the Plus is outfitted with a 4,100 mAh one. Both support Oppo's VOOC fast-charging technology, which should allow the handsets charge up to 75% in only about 30 minutes.
The two handsets are up for pre-order now, with price tags of around $400 (CN¥ 2499) for the R7 and around $480 (CN¥ 2999) for the Plus. The two models should be up for pre-order on Oppostyle.com, too, but as of this moment, their pages show them as being "sold out".
Oppostyle.com (
R7
) (
R7 Plus
)