Oppo might return with the Find 9 and two other smartphones this and next week
2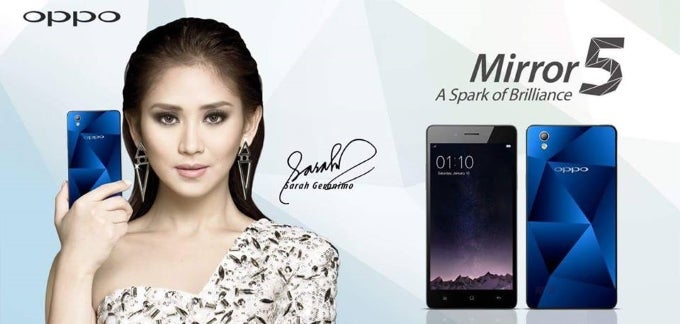 Outside homeland China, smartphone maker Oppo is mostly familiar to technological connoisseurs only. Chances are you won't see Oppo phones in the wild outside Asia or Europe, but this isn't because they are bad. Rather, they've landed the company an innovator's image with stylish designs (like mirrored finishes) and quirky technologies, such as rotating cameras and super-fast charging. Despite selling an impressive 50 million handsets last year, Oppo has been laying low for a while, but it appears to be orchestrating a serious return behind the curtains.
Purported promotional images of three new Oppo devices have surfaced online, showing us all but a blurry glimpse at what's to come out of the manufacturer's laboratories. If you struggle to make out anything other than basic shapes and a colorful lock screen or two, don't worry, for we are in the same boat! But word is that Oppo will be launching these handsets as early as next week, with two scheduled for June 2 (today) and the last coming June 6 (next Monday). Reportedly, it's the Find 9 and Find 9a smartphones that are in store, while the third one is a mystery.
It's been over two years since the Oppo Find 7's release, an unusually long time between generation upgrades.
We've had paparazzi shots and leaked benchmarks of the Find 9 show up recently, which is another clue pointing towards its imminent launch. It's been over two years since the Oppo Find 7's release, which you may recall it was among the first smartphones with Quad-HD displays. To say the Find 9 has been long-awaited would be a bit of an understatement in the era of yearly (and half-yearly, on occasion) upgrades. However, it doesn't look like the Find 7's successor will be a flagship device.
If the leaked spec sheet from the GFXBench database is to be trusted, the phone will be powered by MediaTek's Helio P10 mid-range SoC. It might also feature a 5.5-inch 1080p resolution screen, rather than a Quad-HD panel. Reportedly, the phone will feature 4GB of RAM and 64GB of storage, along with a 16MP front camera (
woah
!) and a 12MP rear cam.
While we're still reporting from the realm of speculation, we should learn more about Oppo's plans pretty soon – perhaps even later today. The leaked images are available below.
ALSO READ
Recommended Stories