Opera Mobile 10 now available for Android manufacturers and carriers only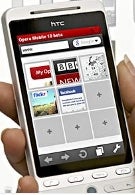 The Opera Mobile 10 browser had been available in public beta for Windows Mobile and Symbian powered devices. Now the little green robot rears his head and the software is available for Android devices. Ready to download your new browser? Wait..there is a major catch. Opera Mobile 10 for Android is available only for manufacturers and carriers. The same rules now apply to Windows Mobile, BREW and Symbian powered devices. Why? Thanks for asking. Opera says that Mobile 10 "presents limitations that hinder mass consumer distribution". Sounds like Opera is being a bit too hard on itself. The new cross-platform UI is an attempt to make the look and feel of the browser consistent across platforms. The cross platform UI is built on top of the browser engine allowing for it to work seamlessly across all devices running Opera Mobile or Mini, resulting in an easy to use web browser for the public, and a cost saving solution for OEM's.
Jon von Tetzchner, CEO, Opera Software, says, "Because no operator offers just one type of mobile phone, Opera has developed a new UI solution that can be deployed on multiple phones and platforms. Due to its pure versatility, the cross-platform UI framework can be customized by Opera to meet brand requirements. Our mobile UI has already been deployed on millions of handsets, and the rave reviews we've received tell us that Opera has succeeded in creating a unique and visually stunning Web experience that's easy and compelling for users across the board." Already shipped on 135 million units globally, Opera Mobile 10 features tabbed browsing, speed dial and password manager.
source:
Opera
via
EngadgetMobile