OnePlus One receives Android 4.4.4 KitKat
33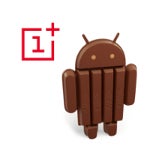 The elusive
OnePlus One
handsets are known to come with a custom build of highly acclaimed CyanogenMod 11. The custom ROM provides a mindboggling
number of options
for the user to change the way the UI looks and acts, in line with OnePlus CEO Pete Lau's promise that the company will aim to create a phone, which each individual could truly customize to their every requirement.
Well, what if said user wants to enjoy a vanilla Android build, without fancy addons? OnePlus seems to care about this group as well, since today it released its own Android 4.4.4 KitKat ROM, to give users a "100% pure Android feel".
It is still rough around the edges and has known issues, with the gyroscope not working properly on all devices, and loss of encryption features and VPN, but if you are a natural dabbler, or one who's just dying for a stock Android feel, you can check out the OnePlus development forum for a download link and instructions. A link to the thread in question can be found below.