One of RIM's warehouses was torched by a fire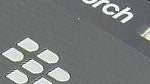 RIM's latest flagship handset, the BlackBerry Torch 9800, is probably selling like hot cakes since it boasts some wicked hot features that play to the strength of everyday consumers. As much as it seems like they're on fire of late, one of their warehouses was unfortunately lit up by a small fire in the twilight hours of today.
Apparently there was a small explosion reported and soon after a fire broke out at one of RIM's warehouses in Cambridge, Ontario. It happened at around 4:00 AM today and firefighters were quick to respond to a 911 call – which was made easier to extinguish thanks to the sprinkler system activating and doing its job.
Although the contents of what was stored in the warehouse was not made known, there were fortunately no injuries reported at the scene. However, firefighter officials are combing through the scene in an attempt to look for hot spots that could pin point to the culprit behind the fire.
source:
CBC
via
BGR
Recommended Stories