One Sony on the rocks, please! Xperia Z2 spends 12 hours as a frozen cocktail, check out the results (video)
23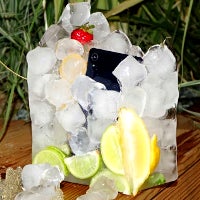 The recipe for this refreshing summertime cocktail is simple - sliced lime and lemon, a few strawberries and mint leaves, and... one
Xperia Z2
. The IP58-certified waterproof marvel of Sony engineering was put to the test yesterday, and went for the deep freeze after being mixed up with the above ingredients.
Sony touts the waterproof abilities of its handset as able to preserve it during a dive in fresh water for more than an hour, and we've seen it pass this test with flying colors already. As if to prove that the Z2 is the perfect phone for your summer vacation, the tester below went even further. He not only plopped the Z2 in water, but also piled ice on top, and stuck it into the beach bar freezer.
Twelve hours later, and the Xperia Z2 was taken out in the form of an ice block, frozen in time like a woolly mammoth in Siberia. Chop those rocks away, take the Z2 out, and try to power it up - what do you think will happen? Check it out in the video below.