On the eve of the iPhone 5S fingerprint sensor, PayPal debuts hands-free phone payment
9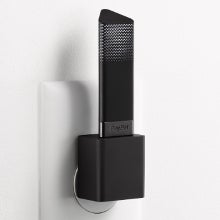 Called Beacon, PayPal's new contraption for handsfree smartphone payment got announced just when Apple is expected to unveil
fingerprint sensing technology for its new iPhone 5S
, which could have everything to do with mobile payments system authentication.
PayPal's invention looks like a memory stick, and plugs in an outlet on the merchant's side, communicating with an app in your smartphone via the low-power Bluetooth LE standard, recognizing immediately you have entered the store. The phone then vibrates swiftly or uses other methods of notifying you whether you want to check in, afterwards the merchant's got all your PayPal payment details, and you can check out and pay just with a tap or a verbal confirmation. Alternatively, you can choose and pay upfront for stuff from Beacon-laden stores and fast-food joints, then just pick the goods up on your way.
Sounds like a svelte idea, which is a few steps easier than standing in line, waiting for the credit card swipe, then, say, sign in a restaurant - now you can just pay and leave on the spot. If you don't want to be recognized in the store or plan on using another form of payment, you can simply ignore the check-in prompt. PayPal is now spreading the word to merchants and developers about Beacon, hoping the idea will get traction, and many surrounding services will pop up to make payment faster and easier than before.