Official Goat Simulator coming to Android and iOS
11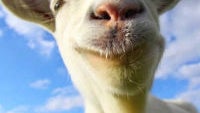 One of the newer gaming phenomenons has been Goat Simulator, which is an absurdist game that celebrates game bugs, rather than trying to kill them off. The game has been a runaway hit on desktops, and has spawned
a number of clones
on mobile platforms. But, developer Coffee Stain Studios has said that the official Goat Simulator will be coming to Android and iOS.
The news comes directly from Coffee Stain Studios official Twitter page, where it was announced that the game would be coming to Android, iOS, and Xbox. Given Microsoft's new
universal development
tools, we're a bit surprised that the game is on Windows and Xbox, but appears not to be coming to Windows Phone. We have reached out to Coffee Stain Studios to question if Windows Phone is in the plans.
There is no word on when the mobile versions will be released, nor what the price will be once the game does come out. The PC version currently costs $10, and has sold one million copies in just five months. We'll keep an eye out and let you know when more info is available.