Microsoft pushes convergence with universal Windows app development
7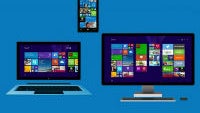 Microsoft has been clear since the announcement of Windows 8 and Windows Phone 8 that its plan for the platform was in convergence. It started out by making sure that all of its mobile and desktop platforms were transitioned to the same kernel, and now it is finally going to offer universal Windows app development, which should have huge implications for the Windows ecosystem.
We knew that something like this was on the way, but the rumors had only really pointed to the convergence of development between Windows Phone and Windows RT. Luckily, Microsoft decided to go all the way and unify the app development for all three of its platforms. Without getting into the technical coding side of things, this means that developers will be able to reuse quite a lot of code in order to create apps for phones, tablets, and desktop (in the Modern/Metro UI, of course).
For the UI, developers will be able to choose whether to have the UI dynamically adapt to the screen size/resolution that it is on, which would mean that an app would look the same on all devices; or, developers can specifically tailor the app design for the screen size used. This second option would require a bit more work, but would offer a UI that works best on each screen size while the majority of the code would stay the same.
This should be huge for the ecosystem, which just passed the "combined" total of
400,000
apps between the Windows and Windows Phone Stores. Of course, using a combined number like that right now is somewhat meaningless, because those are all separate apps that can't work across all devices. Developers will soon be able to update their apps to work across devices though.
Microsoft is obviously hoping that this will push more official apps throughout the ecosystem, and it will also help to bolster the struggling Windows tablet market. Windows RT has seemed to be a platform that was essentially dead-on-arrival, because there were no apps, no customer interest, and little manufacturer interest. Obviously, the hope here is that the old adage will prove true: where the developers go, manufacturers and users will follow.
Although, the overall reason for being with Windows RT is still somewhat shaky, especially with Windows 8 Pro tablets reaching the sub-$300 price point. So, we'll have to keep an eye on how this all shakes out. These new developer tools should lead to an uptick in the number of apps available across Windows devices, which should be good for both Windows Phone and Windows 8, but time will have to tell whether or not Windows RT is still a necessary part of the plan. Microsoft has hinted before that having three different platforms is likely not how it will be going forward, and offering universal apps may be the beginning of the end for RT.