Official Bluetooth mini keyboard for the PlayBook is coming soon, possibly in time for PlayBook 2.0 software release
2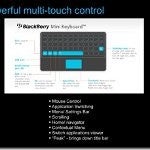 Sometimes you have to wonder whether a company is committed to the success of a certain product, but as we've seen of late from RIM's camp, the
company is going through some rocky times
. Almost a year since it rolled onto the scene, we're almost nearing the inevitable arrival of an
official Bluetooth mini keyboard
for the BlackBerry PlayBook, which strangely first came to light back in April of last year.
Who knows why there has been such a long wait for it, but recent leaked slides indicate that its arrival is
coming soon
, and more importantly, it might actually
launch the same time as the new PlayBook 2.0 software
. Peeking over at some of the slides, we can faintly see the actual appearance of the keyboard in some of them – showing us a uniform layout with a touchpad on board as an optional form of navigation.
On top of that, it's mentioned that its battery charge can last up to
30 days
, it comes with a case that folds over the PlayBook, mouse scrolling enabled, offers multi-touch control, and it chargers through a microUSB port. Certainly, we're given some specific details about the mini Bluetooth keyboard, but its pricing is still unknown at this point. Knowing that
RIM has been discounting its QNX based tablet
very aggressively of late, we're hoping to see something on the same lines with the keyboard.
source:
Berry Review