Nokia working on a tablet called N920?
1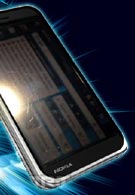 The article has been updated on October 19


The Nokia N900
has still not made it to the market, but rumors of the next generation tablet of the manufacturer are already floating about. Now we´ve got a picture that supposedly shows the
Nokia N920
. The word has it the N920 will be equipped with a 4.13-inch capacitive display that allows controls via multitouch, come without a keyboard and run Maemo 6 and not version 5 like the N900. The other specifications are probably identical to those of the latest Nokia tablet. This, however, tips us off that the N900 will probably prove to be Maemo 6 capable. Unfortunately we still don´t know what the differences between the two operating systems are.
The Nokia N920 will most probably roll out sometime next summer or perhaps, at the end of 2010, so we´ve got more than enough time to snoop around and tell you more about this most interesting device.
*UPDATE*
: NokiaPort.de admitted that the image is fake and was made only to create some rumors about a phone that doesn't exist.
Nokia N900 Specifications
|
Hands-on with the N900
source:
Pocket Tables