Nokia unveiled a completely new product group - Nokia Imagewear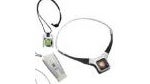 The first products in the series are the Nokia Medallion I & II and the Nokia Kaleidoscope I. These products will be available in Europe, US and selected markets in Asia Pacific with shipments planned to begin during the first quarter of 2004.
The Nokia Medallions are designed for carrying, wearing and displaying images reflecting your personal style or emotion. The images are transferred wirelessly from a compatible mobile phone via infrared, or from a computer. You can take a snap shot and upload it in an instant via infrared to the wearable display. Wear either around your neck or use the wrist strap with the Nokia Medallion II and wear it as a bracelet.The Nokia Medallion I stores up to eight still images.
With the small Nokia Kaleidoscope I, you can upload digital images and easily store and carry them with you. A full color virtual display, together with infrared transmission and discrete good looks, makes the Nokia Kaleidoscope I an ideal pocketable "viewer". The Nokia Kaleidoscope I uploads images via infrared or from a compatible memory card.