Nokia untroduces four new phones, wireless Bluetooth keyboard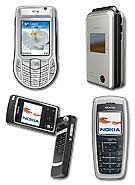 It is a dual-mode, tri-band, Series 60 smartphone designed to work on 3G (WCDMA), EDGE and 2G networks in Europe, Asia and the Americas. Offering always-connected email, mobile broadband access to multimedia content, live video streaming and video conferencing, the compact Nokia 6630 phone makes 3G a reality for a growing number of people. Speeds of up to 384 kbps downstream and 128 kbps upstream are supported. The Nokia Mobile VPN client enables secure access to corporate Intranets or email servers.
With 1.23 million effective pixels in its camera, and a host of digital imaging features, the Nokia 6630 is the most advanced camera phone introduced in the GSM market to date. The range of imaging features include 1 to 6x variable digital zoom for picture and video capture, manual exposure control, sequence mode for fast picture capture, up to 1 hour of video recording and wireless printing directly from the handset utilizing solutions by HP and Kodak.
With the built-in memory and in-box MultiMediaCard (MMC), the Nokia 6630 features 74MB of memory in its standard configuration.
Weighing 4.48 oz (127 grams) and measuring 4.3 x 2.4 x .81 in (110 x 60 x 20.6 mm), it is world's smallest megapixel phone for GSM and WCDMA networks. The Nokia 6630 is planned to be available during the fourth quarter of 2004, and the estimated, unsubsidized sales price of the Nokia 6630 is expected to be less than ˆ500 ($603 USD).
Full specification and features are available at PhoneArena.com