Nokia turns to style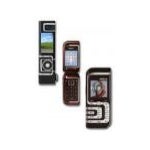 US sell phone market is all about convenience and functionality while fashion and style were saved for Europe. Nokia is working to turn things around introducing three world phones inspired by style which will be available on the US market - Nokia 7280, Nokia 7270 and Nokia 7260.

With this new collection, Nokia is playing not only with color and geometric lines but also with the whole silhouette of the phones.


For the 7280, the company goes way out of the ordinary phone design and skips the keypad creating it all voice controlled. Weighting only 3oz (84g) and measuring 4.5" x 1.3" x 0.7" (115 x 32 x 19mm) the handset sports GPRS/
EDGE
data, xHTML browser, Infrared, Bluetooth, speakerphone and Radio. It slides open about half of an inch, exposing the build in VGA camera lence. That is also how you activate the phone and take calls and to hang up – just close it back. Another feature you can not miss on this phone is the display - it supports up to 65,536 colors within 104 x 208 pixels but the unique part about it is the red glow and the mirror finish.
Nokia 7280 full specification
Another part of the new Nokia fashion collection is the 7270. It is featuring a clam shell design with a combination of different materials and changeable snap-on textile wraps that you can coordinate with the display wall papers. The phone has 2 color displays, GPRS/EDGE data, Infrared, xHTML browser, Java MIDP 2.0, polyphonic ring tones, Push to talk, Radio and integrated VGA camera with 4x digital zoom.

Nokia 7270 full specification
The third handset introduced at the Totally Fashion event in Shanghai is the 7260 which has chrome and steel accents and geometrical touch on the key pad design. It reminds us a lot of the 7610 introduced not long ago but this one is missing some of the features. The Nokia 7260 weights 3.3oz (92g) and measures 105 x 45 x 18 mm and is packed with integrated VGA camera, FM Radio, high-resolution, active matrix display, Flash messaging, Java, Kodak Photozone, GPRS, IR and voice control.

Nokia 7260 full specification

All three phones are tri band GSM (900, 1800, 1900) phones, SMS and MMS capable, with polyphonic ring tones, PIM functionality, voice recording and dialing ,E-mail and they all come with coordinated carrying pouches and straps for the true fashion fanatics. Nokia plans for these phone to be available Q4 of this year but is still not releasing any pricing information.