Nokia profit drops 66% in second quarter, Revenue drops 40% at Sony Ericsson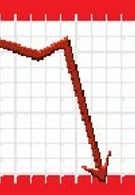 The worldwide recession is beginning to catch up to some of the bigger names in wireless manufacturing. Nokia reported a 66% drop in profits for its second quarter. The Finnish company said that earnings dropped from 1.1 billion Euros last year to 380 million Euros in the most recent period. Sales at the mobile devices unit plunged 25% over the three months as 103.2 million handsets were shipped, 15% less than the prior year but up 11% from the first quarter, which is usually the weakest period of the year. Nokia's market share rose to 38% from the prior quarter's 37% reading, but was down from the 40% share the company garnered during last year's second period. Thanks to 500,000 Nokia N97's shipped in June, Nokia's share of the smartphone market rose to 41% in the quarter from the previous three months. The company admitted that it will not be able to pick up market share in the second half of this year, and said operating margin will be flat at near 11% in the mobile-device division for the balance of 2009.
Sony Ericsson reported its 4th consecutive period of red ink, losing 213 million Euros in the second quarter. The number of phones shipped by the joint venture was about half the number shipped during the prior year when it made 6 million Euros. Sony Ericsson expects conditions to remain tough during the rest of the year as it predicts that the global handset market will contract at least 10% for this year. While gross margins slumped from 23% to 12%, the number of phones shipped dropped from 24.4 million to 13.8 million during the three months.
source:
MarketWatch (Ericsson)
,
MarketWatch (Sony)