Nokia planning more Android phones after the X (Normandy), release tipped for May-June
50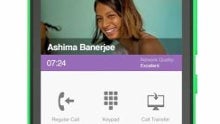 A source from Artesyn Technologies tips that the
Nokia X
Android phone that
will be announced at MWC
is not the only green
robot
rabbit to come from the Finns' hat this year, and we can expect several other models, including higher-end ones.
The source goes as far as saying that those will be revealed in the May-June timeframe, and will cover different price points. Now whether those will be on the same forked Android principle without Google's apps and Play Store, remains to be seen, but that's the more likely scenario.
The thing is, muses the report, that what will be left with Nokia after the Microsoft acquisiton, will be the low-end Asha and feature phone department, while all the value added, like the
PureView
cameras,
HAAC mics
and
ClearBlack
displays, will remain with the team from Redmond. Thus, they rightfully conclude, the Nokia remnants will have an impossible task against Android juggernauts like Samsung or LG even at the midrange, let alone the high-end.
If those upcoming Nokia phones are running forked Android with Asha overlay, though, we'd say they won't be a real competition to those, so Nokia can still squeeze more of its traditional brand recognition in emerging markets with price differentiation and features like the
HERE
offline navigation suite.