Nokia announces new Multimedia phones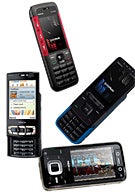 At a Nokia: Go Play event in London, the manufacturer today announced a bunch of new multimedia phones targeted to different groups – music, imaging and gaming. Some of them use the Symbian S60 smartphone OS while the others run on Nokia's S40 interface.
Nokia N81
has been revealed in images thanks to some dummy phones that appeared in Asia. It is a relatively small slider for a smartphone and targets at music and gaming, so packs just plain 2-megapixel camera. To have higher quality sound it packs stereo speakers that are reported to be loud and 3.5mm stereo jack for attaching of headphones. It is not stripped on functionality and packs 3G (European) and WiFi, running on Symbian 9.2 S60 The phone is configured to find, buy, manage and play music and games purchased from the Nokia Music Store and N-Gage games service. The Nokia N81 will be available in two versions, standard and
N81 8GB
which will have that amount of memory built-in. The standard version will use microSD for the memory but come at lower price (EUR360/$490 for N81 and EUR430/$585 for N81 8GB).
N95 8GB
. Unlike the N81 and N81 8GB that are absolutely identical (except for the memory), the N95 8GB will have also some other improvements when compared to the standard N95. These include bigger display (2.8" instead of 2.6"), improved usage time thanks to bigger battery, redesigned back (removes the camera lens cover to fit the battery) and music-keypad (now with relief). Other features remain the same as in the original N95, being a Symbian S60 smartphone with HSDPA, WiFi and aGPS. Nokia points price of EUR560/USD$760.
Strangely, yet there is no official information on the
N95 US
which is based on the standard N95 but replaces the 3G band with US ones (850/1900MHz) and redesigns the music keypad and the back. As it also scored FCC approval, we will expect it on the market.
Nokia 5310 XpressMusic
is a new slim candybar targeted to music. It is less than 0.4" thick (9.9mm) with aluminum finish but light weight. As it has microSD slot, 5310 can use up to 4GB card which Nokia says will store about 3000 songs. Other features include QVGA display with 16 million colors and 2-megapixel camera and the retail price is EUR225 or $305.
Nokia 5610 XpressMusic
is a slider, dedicated to music. This is noticed easily both by its name and its design: although it doesn't have buttons around the display as the 5300 did, it has uniqueiconic Music Slider key and big play/pause over the central position of the D-pad. It is more advanced than the 5310 and so comes at higher price (EUR300/$410) but it may be worth it considering the aluminum side panels, 2.2" QVGA display and
3.2
-megapixel camera with dual LED flash. 3G will allow for high-speed data and the battery should last for up to 22 hours of music playback while the 5310 lasts for 18.
All phones are expected to begin shipping in the fourth quarter of this year.