Nokia announces 4 new phones
2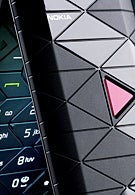 At the Growing Together 2008 conference held today in Johannesburg, Nokia introduced four new budget cell phones, intended for the emerging markets. The company said, it is trying to meet the growing demand for cell phones with better functionality in such areas, without bumping the price too high. All of the four new models, which include 2 candybars, one slider and a flip-phone, are dual-band GSM (with U.S. and European versions), run on series 40 software and are in the 50-90 Euro ($79 – 142) price range, before taxes.
The first model,
Nokia 5000
has support for the local mobile email solution (Webmobile), developed exclusively for people in South Africa. The candybar phone has a
1.3
megapixel camera, a high-resolution QVGA display, an FM radio with recording functionality and supports the MP3 file format. It also supports Nokia Xpress Audio Messaging, Bluetooth and GPRS connectivity. The Nokia 5000 is expected to hit the selected market Q2 2008 at EUR 90 ($142), before subsidies and taxes.
Nokia 2680 slide
is the first budget slider model from the manufacturer and it has a media oriented personality. It is a slim cameraphone that is user-friendly and includes an FM radio with recording capability and supports MP3 ringtones. The Nokia 2680 slide is scheduled for a launch in selected markets in Q3 2008 at the price of EUR 75 ($117) before subsidies and taxes.
Nokia 1680 classic
is the second candybar presented in Johannesburg today. As the manufacturer claims, the phone is its "most affordable cameraphone to date". Which means that besides basic phone functionality, the entry level device offers the advantage of having a basic VGA digital camera for pictures and video. On top of that you get e-mail support. The Nokia 1680 classic is scheduled to begin shipping to selected markets in Q2 2008 at the modest price of EUR 50 ($79) before subsidies and taxes.
The only clamshell presented today was the
Nokia 7070 Prism
. It is abudget fashion phone with geometric patterns, resembling diamonds andexternal light effects. The manufacturer has emphasized on thepersonalization options, providing themes, wallpapers, and "MP3-grade"ringtones. The 7070 Prism, which includes voice recorder and integratedhands-free speaker, is expected to begin shipping to selected marketsin Q3 2008 and it will cost EUR 50 ($79) before subsidies and taxes.
Nokia introduced not only 4 phones, but also the Webmobile email solution exclusively for South Africa in collaboration with Webmail International (PTY). The solution, configured for the new Nokia devices launched today, will be available in the Q2 2008.
source:
Nokia