Nokia adds 4 entry level candybars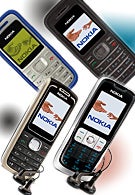 Ultra simple, the Nokia 1200 offers dust-resistant keyboard and good battery times. It has simple grayscale display.
The 1208 adds 65k colors but the size of the display isn't large at 96x68 pixels. It has the same "protected from dust" keyboard.
The 2630 is the only one to run on Series 40 and to pack a camera (0.3 megapixels). It also has 128x160 pixels display with 65k colors and FM radio but doubles the phonebook size to 1000.
Expect the 1200 and the 1650 in Q2 this year, and the 1208 and the 2630 in Q3.