Nokia Lumia 800 promo campaign gives you the chance of meeting celebrities
2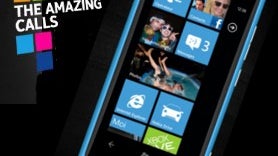 It may not be too popular of a brand in the U.S., but across Europe, Nokia still has a significant, albeit dropping, number of followers. And in effort to push the sales of its newly-introduced
Nokia Lumia 800
smartphone, powered by Windows Phone Mango, the manufacturer has come up with a pretty interesting promotional campaign.
Appropriately named
"The Amazing Calls"
,
the marketing stunt that Nokia is currently running in France gives you the chance of receiving a call from a celebrity
and even meeting them in person. All it takes is from you to sign up at the campaign's web page. If you do not happen to be among the lucky winners, however, you are still given the thrill of being called by another random subscriber, which depending on your luck might be also an exciting experience.
Below is a video of a lucky subscriber who will be enjoying a special concert performed by U.K. band Metronomy. Do you think that a similar campaign would boost Nokia's popularity if pulled off in the U.S.? Feel free to share your opinion in the comments below.