Nokia Lumia 800 against the world: specs comparison
57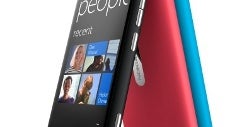 The
Nokia Lumia 800
has finally been announced and it's the "first real Windows Phone," as Stephen Elop himself put it. But fancy words aside, what does it really hide under that beautiful pillow-shaped display? The guts are what really matters in the Android world, but even the iPhone has jumped into dual-core territory.
The Lumia 800 however
stays single-core
with a 1.4GHz Snapdragon MSM8255 processor. Nonetheless, we shouldn't just judge a book by its cover, nor a phone by its specs. We've seen that the first wave of Windows Phone might have seemed underpowered compared to the well specced competition, but still managed to deliver a flawless, buttery smooth experience.
We don't expect this to have changed much in the Nokia Lumia 800, but we couldn't resist the urge to put its technical details alongside its
biggest competitors on iOS and Android
: the
iPhone 4S
, the
Samsung GALAXY Nexus
, the
Motorola DROID RAZR
and the
Samsung Galaxy S II
. Do you consider it capable of competing with those heavyweights? Let us know what you think in the comments below.