Nokia Lumia 1520 bests Samsung Galaxy S5 in gaming benchmark test
63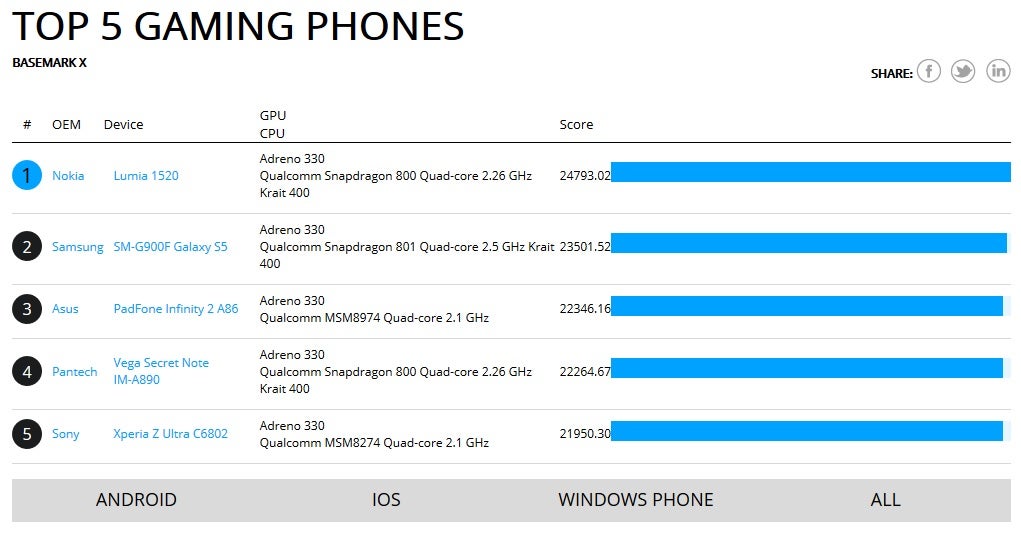 One nice thing about most Windows Phone series devices is the smooth user experience that has proven itself to not be dependent on super-high-end hardware to make it happen. The gaming experience overall on Windows Phone is pretty good and the selection of games is no slacker.
Benchmark tests have come under a lot of scrutiny lately, and that is a good thing. Still, they are not without their uses and if the results shared by Rightware are on target, the
Nokia Lumia 1520
is the device to own if mobile gaming is your thing.
The Lumia 1520 is a flagship by any standard, so most folks would scratch their heads at such news, but the fact that the yet-to-be-released
Samsung Galaxy S5
was part of the test is what makes this interesting. The new Samsung is packing a newer Qualcomm Snapdragon CPU, but the same Adreno 330 GPU. Still, those that were expecting a breakthrough with Samsung's new flagship will be surprised.
Rounding out the top five behind these two beasts are the
Asus PadFone Infinity 2
,
Pantech Vega Secret Note
and the
Sony Xperia Z Ultra
. All the devices arguably finished within inches of each other on the gaming centric Basemark X benchmark, making all of them a fine choice. When you look at the overall, Basemark OSII category, the Lumia 1520 finished in the top five (fifth), but still ahead of the Samsung Galaxy S5.
source:
Rightware
via
NPU