Nokia Introduces New Phones and Accessories
12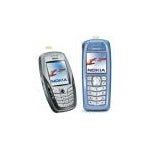 Nokia announced today two new color phones.
The 6600 is a tri-band GSM 900/1800/1900 Mhz phones, Series 60 OS which is based on Symbian 7.0s, XHTML browser, Integrated camera with 2x digital zoom, large screen with 65 536 colors, receive streaming video in both RealAudio and 3GPP formats, GPRS, email with SSL and mobile VPN, Java MIDP 2.0, polyphonic ringtones and Bluetooth. The phone will feature also 6mb internal memory and 32mb MMC card. The phone will weight 4.30 oz (122 grams ). Talk-time of up to 4 hours and standby of 10 days.
It will be commercially available in Europe, Africa and Asia-Pacific market in Q4 of 2003.

The other phone introduced today was the Nokia 3100. It is again a tri-band GSM 000/1800/1900 MHz phone, color screen, XHTML browser, JAVA and Xpress-on covers. Sold separately, the Xpress-on gaming cover features "electroluminescence" - special light effects that sparkle through translucent faceplates in rhythm with ringing tones, games, alarm and other phone functions.

Nokia introduced also two new accessories:
Nokia Fun Camera - a stand-alone VGA camera with its own viewfinder, flash and power supply. With 8 MB of memory, the Nokia Fun Camera can store up to 50 images, and can be attached to compatible Nokia phones with a Pop-Port(TM) connector (Nokia 3100 supports it).
Also announced today was the Nokia Radio headset - this combination stereo FM radio with display and headset simply clips onto a lapel or slips into a shirt pocket.