Nokia 8270 - the latest 'fashion' phone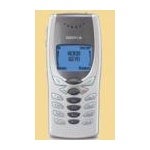 Nokia introduced their newest CDMA 1900Mhz phone at EXPO COMM MEXICO 2002. It weights only 3 ounces, but features wide range of capabilities.
- Wireless Internet browser - 2-way mobile text messaging with predictive text input - Phonebook with up to 250 entries (1 number and 1 email address per contact) - Downloadable ring tones (capacity for up to 10) - Profiles for easy, discrete call notification in any environment - Integrated vibrating alert - Alarm clock and calendar - User-changeable Xpress-on color covers - Standard 750mAh lithium-ion battery - Up to 2 hours 20 minutes to 2 hours 45 minutes of talk time - Up to 3-5 days of standby time - Only 3 ounces - measures 4 in x 1.8 in x .9 in Shipments are expected to begin during the second quarter of 2002. About Nokia Nokia is the world leader in mobile communications. Backed by its experience, innovation, user-friendliness and secure solutions, the company has become the leading supplier of mobile phones and a leading supplier of mobile, fixed and IP networks. By adding mobility to the Internet Nokia creates new opportunities for companies and further enriches the daily lives of people. Nokia is a broadly held company with listings on six major exchanges.